THE HEALING HOUSE
313 Camino Alire, Santa Fe
Phone: 505-395-0746
Latitude: 35.682314
Longitude: -105.964304
A healing collective.
Tony Reis
Curandero/Healer
Tony Reis is a fourth generation spiritual healer and mystic and has been practicing healing, helping, education and training people and practitioners of the healing arts for over 40 years. He lives in Santa Fe, New Mexico and practices from his downtown office and from his mesa top land on Abiquiu Lake.

Tony was recognized as a curandero (male healer) by his paternal curandera (female healer) grandmother just days after his fourteenth birthday. He combines his ancestral healing gifts with 21st century therapies, including bio-energetics, energy therapy, and vibrational medicine utilizing the knowledge, understanding and direct experience gained in his many years of successful practice.
Kathleen Nagy
Sound Healing
Experience the power, beauty and healing properties of tone and harmonics through Sound Healing. Kathleen combines a lifetime of Classical Training with BioAcustics and Harmonics into personalized healing sessions and group classes.
Kathleen Nagy, The Sound Lady, started her sound journey with 18 years of performing in symphony orchestras on the french horn, teaching music education and directing musical theater. Following this, Kathleen forged through the ingredients of crafted "classical" melody, harmony and structure, and found the power, beauty and healing properties of tone and harmonics. After spending her life immersed in music and sound she decided to move from music for entertainment to sound for healing.
She has several decades of professional experience as a classically trained musician, majored in Music Education and Applied Music on French Horn at Ithaca College, and completed graduate work at Yale University. She taught music in public and private schools from elementary school through adult education. Her website showcases her work with BioAcoustics and Harmonics, including downloadable files combining french horn playing with vocal harmonics that boost the immune system and energize thyroids, lymph, digestion, kidneys and colon.
Katherine Carll
Templeton
Massage / Theta Healing
Over the last 27 plus years Katherine has assisted people to heal their body, mind and spirit. Her clients have found her to have a balance and harmony in her sessions. She consistently has clients tell her they appreciate her ability to properly balance the physical and energetic modalities to get the best results.
Katherine Carll Templeton, LMT, BCTMB, CTH
Ellen Shaprio
Medical Qigong
Prosperity Coaching
Ellen is a Morning Medical Qigong Instructor, Reiki Master, Bodyworker & Self-Love, Money & Empowerment Coach for women.
​
Experience beautiful, peaceful motion that is healing, restorative and calming, or try reprogramming techniques around specific issues.
John Holmes
Numerology Readings
Personalized Charts.
John Holmes 30+ years of practicing Numerology is predicated on the belief that we are spiritually originated beings having physically manifested experiences. Every one of us has at the core of our spiritual quest the basic questions of "who am I? and why am I here?" We all come to the Earth plane with a very specific Pre-Intended Story. Numerology provides the complete explanation and the full content of your Pre-Intended Story.
Judy Westen
Reiki / Holy Fire II®
Judy Westen has been giving Reiki treatments to friends and family for over 12 years, and now has her own Reiki practice, For the Love of Reiki - Bringing Reiki Love and Light into the World. She is passionate about the positive influence Reiki can bring to people, animals, and situations. (She has even given Reiki to her car when the turn signals began to malfunction - now they are working again!) Along with giving Reiki treatments, she has given readings, in which she often experiences the pain and discomfort her clients are feeling, helping them to understand these feelings. She has also assisted in readings on a missing person investigation with a local police department detective.
Experience the total body relaxation that Reiki can bring, enabling you to help your body heal itself. Let Reiki fill your body and soul with love and light, sending that love and light to the Universe.
Genai Wachs
Serpentfire Healing
Yoga
Genai Wachs uses Serpentfire Shamanic Healing and Yoga practices to train channels for joy by "Explores", a process through which we discover the inner terrain of ourselves by first-hand experience of our spiritual talents. We discover our natural birthrights: intuition, peaceful mind, telepathy, self-healing, laying on hands healing and creative vision. Advanced students deepen surrender to higher consciousness. They may open their voices for giving spiritual messages, guide communication, light translation, poetry, stories, songs, art and manifestation. Students build confidence in their own inner truth, move beyond learned dogmas of limitation and helplessness to owning their inner magic, and integrate co-creating with Nature a new life of respectful and deep connection with the One in All That Is.
Ralph Weisman
Heart Thread
Angel Readings
Raphael Weisman is a retired harp-maker. Born in South Africa, he lived in Jerusalem, London, Laguna Beach CA, Questa NM and currently lives in Santa Fe, NM. His passions are HeartThread, Water Consciousness, Music, Art and Nature. He is a HeartThread facilitator and trainer, and channels guided messages and healing from The Angels.

He organizes Water Awareness events and ceremonies, builds Medicine Water Wheels and is planning a Santa Fe Global Water Festival in 2020. He founded the non-profit Healing The Scars, Inc to provide healing from the effects of war, trauma, abuse and violence. Raphael is a visionary, a poet and writer. He loves to dance, and is an avid hiker and a lover of trees and the Nature Kingdom. He is a musician and loves to sing and to jam on flute, harp and harmonica.
Gale Litvak
Nature Based Healing
Creative Expression
Gale Litvak offers Oracle readings and healing assistance through working with Nature in a sacred way and the creative process. In her own words: Sometimes life is unexpected. There are twists and turns and detours that lead to new directions and possibilities. In 1985, I began a focused spiritual journey that tapped into my personal history and opened a Pandora's box of darkness. There was no way out but through. As the world as I knew it dissolved, I was guided to begin working with Native American spiritual teachers and healers, a 22 year journey still ongoing. In the process of my personal healing, I learned a myriad of tools and experienced their value. I have earned the blessing and am honored to share what I know with those who are guided to work with me, assisting, as I am able.
Liane Brown
Fiber Artist
Teacher
An accomplished spinner and weaver, Liane also creates sacred rattles and talking sticks for people of all ages and spaces, as well as medicine pouches and crystal carrying purses. Her work benefits the wolf and buffalo sanctuaries she receives fallen fur from through donations from her sales, and her work is guided by native American culture and traditions. Place custom orders or select from her current inventory.
Rand Lee
Tarot Reader and Teacher
Channel
Rand B. Lee has been providing Tarot readings and trance work for an international clientele for 30 years. With his information source "The Family", he offers guidance in matters of career, work, prosperity, life-purpose, love, relationships, wellness, relocation, creative blocks, land-, pet-, and house-readings, creative projects, GLBTQA matters, and spiritual development. Rand also offers 4-week tutorials in Tarot reading, automatic writing, spirit guide discovery, devic communication, psychic development, and the Tarot Essences system of personality analysis.
Priscilla Schmidt
Founder of Sacred Healing Lights: A Healing Collective
and The Casita: The Healing House
Priscilla brings The Gift of Understanding to pain, trauma and healing, having survived one of the most painful conditions known and which claims up to 50% of patients within the first three years. Her own journey back to life has revealed both scientifically informed practices and even deeper explorative and metaphysical practices to recover, heal and live anew. In her space, you'll be met with compassion, and know you and your experiences are honored and validated. You will be accepted exactly where you are and without judgment or blame.

She offers in person and distance healing in Reiki, Karuna® and Holy Fire II®Reiki, Holographic Healing, Meditation, Nutritional Guidance, and Life Reclaiming Coaching. She certifies up to Master Teacher in Usui Reiki, Karuna® and Holy Fire II®Reik, and offers further specializations in animal care and pain and forgiveness.
Carly Bevans
CoFounder of Sacred Healing Lights: A Healing Collective
and The Casita: The Healing House
Carly Bevans is a Licensed Massage Therapist, Cupping Therapist and Facilitator or Health and Wellbeing with more than 23 years experience taking clients beyond relaxation to a place of tranquility and Healing where they may experience a more flexible, balanced, healthy body and peace of mind. Carly uses gentle Swedish massage ad specializes in Elders.
​
Presently, she assists with The Casita, The Healing House, and Sacred Healing Lights.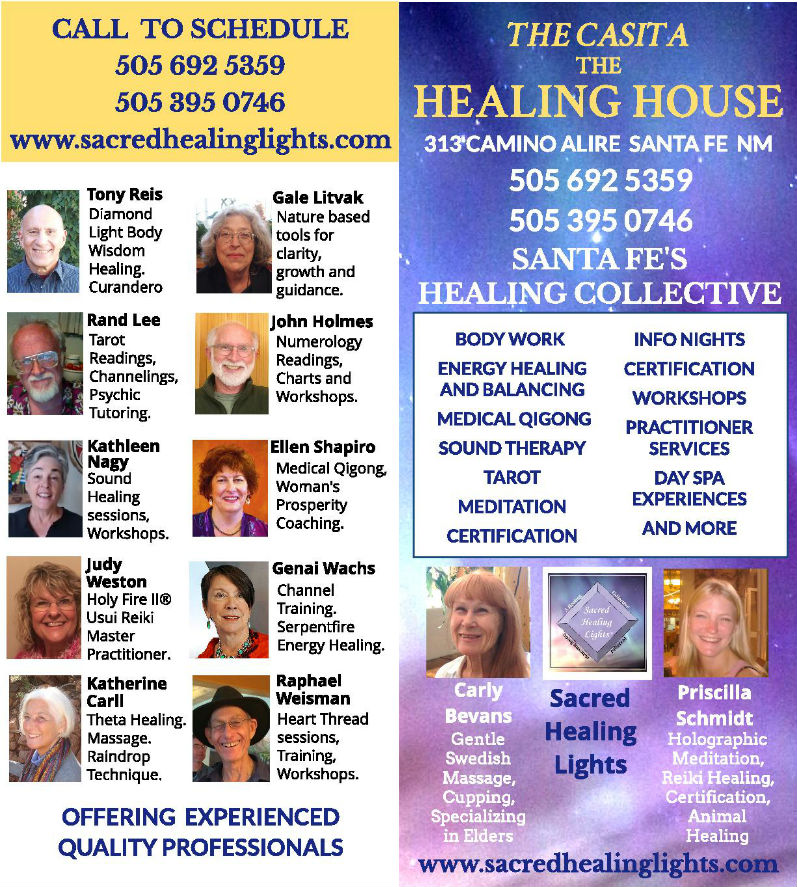 ---
Features:
Curandero, Healer, Sound Healing, Massage, Theta Healing, Medical Qigong, Prosperity Coaching, Numerology, Reiki, Holy Fire II