Soul Map Songs: Evolutionary Astrology by Willamarie Moore
.(JavaScript must be enabled to view this email address)
Phone: 617.642.9109
Healing counseling sessions through the lens of evolutionary astrology, to help you understand your innate strengths and challenges, support you through big life transitions, and to empower you in decision-making that's aligned with your true self—your soul's unique song.
OFFERINGS:
In addition to General Birth Chart Readings, if you have questions in your life related to Work/Career/Money, Love & Relationships, and/or Karmic Healing, you can also book a discounted package of 2 or 4 Readings, each to focus on specific issues. Gain clarity and direction in any area of your life!
Offering Classes and Workshops for small groups (4 - 8 people) on topics such as "Your Soul's Mission" and "Astrology 101." Classes/Workshops customized to your group's needs/desires also available. For example, related to current astrological events such as Full/New Moons, Eclipses, and other significant Transits at the time of your booking.
Evolutionary Astrology is the merging of modern humanistic psychology with ancient metaphysics. In Willamarie's unique practice, she weaves in techniques from mindfulness wisdom traditions and the arts. Through her approach of engaging "both sides of the brain," clients consistently report that they walk away from each session with a clearer understanding of their natural proclivities and their bigger purpose in this lifetime, on both a rational, intellectual level as well as on an intuitive, emotional level.
TESTIMONIALS:
"I highly recommend having an astrology reading with Willamarie. I had no idea what to expect, as this was my first time, but I can say I did not expect it to be so accurate, or so relevant to my current concerns in life. Her explanations made so much sense, and also gave me valuable perspective that has been really helpful to me ever since. She was able to explain things in an approachable, down to earth way, and made it so easy to understand. If you are new to all this, or even if you're not, I know Willamarie will give you a wonderful and meaningful experience."
- Lara L. (Portland, OR)
I had a birth chart reading with Willamarie that was excellent! It was great to explore my planets and houses and dig deeper into my soul's journey and purpose. I think she's an excellent and gracious guide, and I can't wait to have another reading. Highly recommend!
- C. Cavanaugh (Santa Fe, NM)
"I came to this workshop thinking I wasn't going to learn anything new, but I saw so much and it's helping me clarify some things that will help me make real, positive changes in my life."
- Workshop participant (Santa Fe)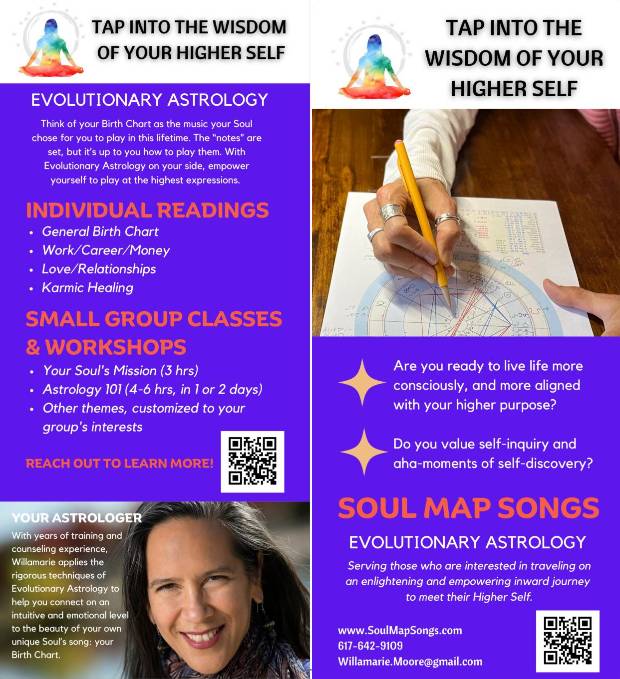 ---
Features:
Astrology spirituality wellness alternative readings counseling healing self-help health care appointments classes