THEATER GROTTESCO
1213b Parkway Drive Santa Fe
Phone: 505-474-8400
Latitude: 35.656451
Longitude: -105.998127
THEATER GROTTESCO is a national touring company formed in Paris in 1983 and based in Santa Fe since 1996. The Company creates intimate physical theater events, weaving classical styles into unique, modern plays.
PIE is a layman's exploration of how we got to where we are, inspired by the provocative Carl Sagan quote above. Grottesco's take is a complete (very abridged) history of the planet, from moments before the big bang to the electronic baroque of today, exploding with madcap humor as the mundane collides with the celestial.
Four character actors come together in a stellar ensemble cast, dexterously moving between emotionally driven clownish characters and their outrageously inflated buffoon alter-egos. Blending styles of the Naïve and the Buffoon, Grottesco uses its broad stylistic palette to create surprise and wonder as it holds up a mirror to the current state of the planet and its people, while sneaking up on life's great questions.
The cast includes theater, music, dance, and circus artists Apollo Garcia, Danielle Reddick, John Flax, and Tara Khozein. PIE was devised and written by the ensemble, under the direction of Kent Kirkpatrick. The production team includes Sculptor Patrick Mehaffy, Composer J.A. Deane, Costumer Sarah Bradley, Lighting Designer Skip Rappaport, and Graphic Designer Robert Brady.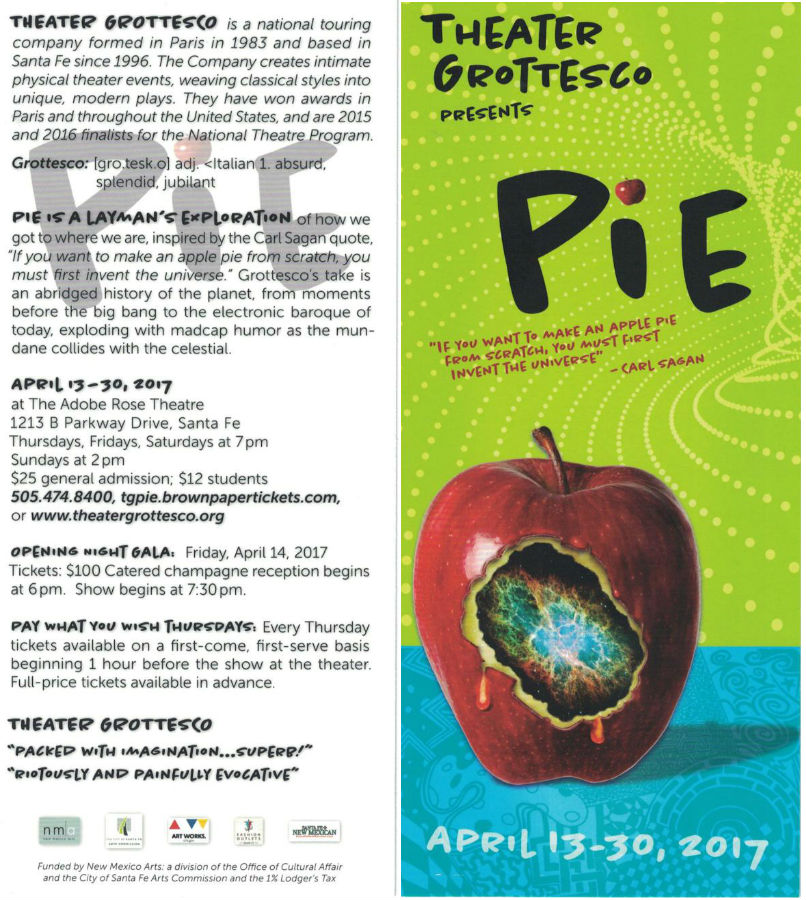 ---
Features:
Theater, play, performing arts, live theater, unique, award winning, acting